"If only I could take your place...."
―Viola to Ellen
Viola
biological information
Age
13
Species
Human
Gender
Female
physical attributes
Eye Color
Green
Hair Color
Golden Blonde
relatives
Relatives
Father (Travis)
Unnamed Mother (Deceased)
Viola (ヴィオラ, Viora) is one of the main characters in The Witch's House, and the protagonist.
She befriends Ellen, a young girl who was also the witch of the house. She's deceived by Ellen into switching bodies, weak and sick, with the promise of "just for a day." In the end, however, they never switched their bodies again, since Ellen enjoys her new painless body. Viola unfortunately dies in Ellen's body, shot by her own father, thinking it is a monster in the Normal Ending of the game.
Personality
Viola is essentially described as Ellen's polar opposite: a kind and trusting innocent girl who is loved by everyone.
Having lost her mother at a young age, Viola takes care of the housework, such as cooking meals and tidying up the living space, on a daily basis while her father goes hunting in the woods for food. Those same caring and motherly qualities are also often seen during her frequent visits to the Witch's House, where she would sit at a terminally ill Ellen's bedside to talk to her and reassure her that there are people in the world who love her (Viola included) in spite of her illness. Ironically, Viola herself begrudgingly admits feeling innately disgusted by Ellen's sickly appearance, staying true to her human nature.
Viola appears to have a stubborn side, often expressing anger and embarrassment towards her father's over-protectiveness. She also seems fairly naive and gullible, believing Ellen's lies when she told her that the adults in the village were hiding her in the forest because they are afraid of her sickly self. These faults are what led to her argument with her father and later made her fall victim to Ellen and her Demon familiar's manipulations, losing her body in the process. But because of her selflessness and kind nature, she was initially willing to let Ellen live on in her body while she died in her place. However, it isn't long before Viola has a change of heart when she witnesses a vision of Ellen walking alongside her father with seemingly sinister intentions, and sets out to trap her former "friend."
In pain and despair, she pursues the player throughout the whole game, not only to get her body back, but because she was worried for her father. Her last words were "father" "daddy" or "father, daddy... help", depending on the ending and game version you play, which shows her love for her father even in her last moments.
History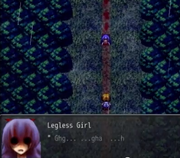 She lives with her father, described by Ellen as "a close family of two". Viola once stumbled into the house in which she met Ellen. They became very close "friends," although Viola was not aware that Ellen was a witch.
On the day that Ellen announced that she was going to die, Viola unknowingly accepted to "take her place". Upon being forced to switch bodies with Ellen, Viola was in shock to find that the body was falling apart. Ellen had gouged her own eyes out and cut her own legs off beforehand, clearly planning Viola's painful death from the start. Adding this to the pain from the illness, Viola screamed in agony. Ellen, not finding her own voice's screams pleasing, handed her a medicine she told Viola would ease the pain. However, it was actually a throat burning medicine, which resulted in Viola losing her voice for good.
Ellen walks outside of the house planning to escape. She finds that the only way to escape is now blocked by uncuttable roses, produced from the remaining magic in Ellen's original body which Viola now resides in. Knowing that there is medicine able to kill the roses inside of the house, she is forced to go back into the house full of traps. Throughout the game Viola attempts to kill Ellen to get her body back and to protect her father. But with the house and black cat on Ellen's side her attempts fail, and Ellen escapes out of the house with Viola's body. Viola desperately chases Ellen out to the forest, only to be shot to death by her own father, who was trying to protect "Viola" from the bloody, legless "monster".
Appearance
Viola is a young 13 year old girl with fair skin and a slender frame. She has blond hair tied into two small braids with messy bangs that hang about her face, and green eyes which, in many of Fummy's original works, are drawn with a deadpan expression. She wears a large navy blue dress, with a singular violet trim at the base of the skirt, topped with a white apron and a large white bow tied in the back, and a pair of brown leather boots.
Relationships
Theories
Gallery
Trivia
References
Community content is available under
CC-BY-SA
unless otherwise noted.